Attention, Empire Citizens!

This article must be worked on to expand, correct or cite its contents. Please contact and

join the Crusade

to help us with it!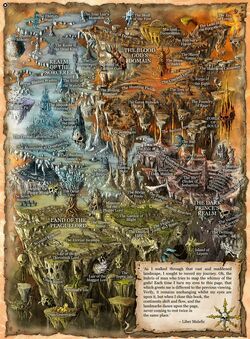 The Land of the Plaguelord is the name given to the Chaos God Nurgle's garden-like domain of rot and rebirth within the larger Realm of Chaos.
Places of Note
Abyssal Sump
Arghus the Plague Moon
Arnzipal's Island
Bridge of Fools
Eternal Swamps
Fields of Tooth and Bone
Fungus Lands
Garden of Blight
Gnawhame
Great Tree
Island of Lepers
Lair of the Maggot Lord -- likely the Domain of Epidemius
Lair of the Thirteenth Lord -- possible the Domain of the Horned Rat
Mansion of the Plague Lord -- Nurgle's seat of power
Ossified Halls
Rotten Reaches
Seven Stones
Septic Isle
Titan Graveyards
Wyrmid Reaches
Sources
Warhammer Armies: Daemons of Chaos (8th Edition), pg. 8
Community content is available under
CC-BY-SA
unless otherwise noted.