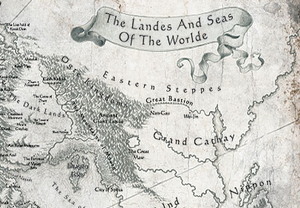 The
Hobgoblin Empire
or the
Hobgoblin Khanate
of the
Eastern Steppes
is one of the largest and most powerful
Greenskin
Empires in the entire
world
, ruled by their legendary ruler
Hobgobla-Khan
. Like all empires that are formed within the large, trackless steppes of the east, the Hobgoblin Empire is not really a nation, but rather a large confederation of
Hobgoblin
Clans all holding fealty to Hobgobla-Khan.
[1a]
The empire was said to have been founded by the legendary and near mythical Khengai Khan.
[4a]
Such is the extent and power of the empire that 90% of caravans going through the Silk Road which passes through their domain never reach their destination.[2a] It is said that when all the tribes loyal to Hobgobla-Khan are drawn up for battle, his horde extends from horizon to horizon. The Dragon Emperor of Grand Cathay maintains several fortresses on his western frontier (such as Shang-Yang, where the Tilean traders keep an additional mercenary garrison) to defend his realm from the wrath of Hobgobla-Khan.[1a]
Sources
Community content is available under
CC-BY-SA
unless otherwise noted.