"It is not the strong enemy we must fear, the danger lies with the weak who flock to their banner..."

—Rueben Wrolfgar, Grand Theogonist.[1a]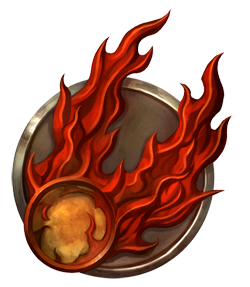 The Grand Theogonist is the head of the Cult of Sigmar and most important religious official in The Empire. He is often a great Warrior Priest and usually one of the Emperor's staunchest allies and most trusted advisers. His official titles include also Theogonist of the Empire, the Arch Lector of the West, and the High Priest of Altdorf, amongst many other titles.[3b] It is no surprise that many of his duties are across the multitude of important high priests in Altdorf. He is also one of the Electors, meaning he is able to vote for the next emperor (invariably, his vote goes to the Count of Reikland).
When a Grand Theogonist dies, the Lectors convene beneath the Cathedral of Sigmar to appoint his successor.[4a] By tradition, a Grand Theogonist adopts a Dwarfish name or epithet when he assumes the office.[3a]
Badges of Office
The Jade Griffon is a massive amulet of jade in the shape of a griffon said to be blessed by Magnus the Pious. The Grand Theogonist wears it on his chest.
The Staff of Command is a staff with a griffon carved on top. It imbues the Grand Theogonist with inhuman strength.
Known Grand Theogonists
Storm of Chaos
Attention, Empire Citizens!

This article may contain older content that is now considered non-canon
End Times
Attention, Empire Citizens!

This article contains information regarding the

End Times

, the actual canon ending of Warhammer.
Sources
2: Prince of Altdorf (Novella)
3: Tome of Salvation - Priests of the Old World (RPG)
Warhammer Armies: The Empire (8th Edition)
Marienburg: Sold Down the River
Warhammer Armies: Daemons of Chaos (8th Edition)
Warhammer Armies: Vampire Counts (7th Edition)
Mordheim Core Rules
Van Horstmann (Novel)
White Dwarf 197
Archaon: Everchosen (Novel)
The Black Plague: Blighted Empire (Novel)

Chapter VI
Chapter XIV
Chapter XVII

Warhammer: Nagash