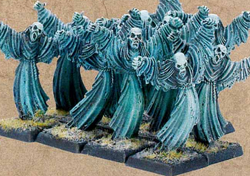 Glooms were a form of Undead spirit, raised from ancient barrows by Heinrich Kemmler.
Overview
The spirits of those who were enslaved to the dead kings still lurk around the site of their long-vanished pyres. Though individually weak, their sheer number and undying resentment of the living makes them a dangerous foe. Unlike many of the Barrow King's servants however, their rage at their fate grants them a measure of free will, making them a challenge to any Necromancer who raises them.[1]
Source
1: White Dwarf #310, Return of the Lichemaster
Community content is available under
CC-BY-SA
unless otherwise noted.