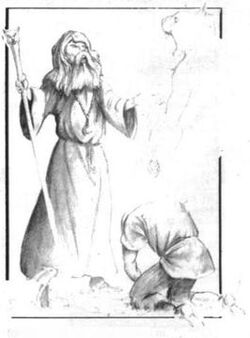 Druidic magic is the primal magic unleashed by Druids and Druidic Priests. It is strongly nature-oriented and allows Druids and Druidic Priests to make friends with animals, assume animal form and animate trees and other flora.
The energies of Druidic Magic appear to draw upon a mixture of Beast and Life Magic in ways that differ from the abilities of the Imperial wizards who also draw upon nature-related magical energies.
Druids and Druidic Priests should use these spells carefully, ensuring that their actions do not disrupt the balance of nature or exploit animals. Those who abuse such spells are likely to be penalised by the powers of nature.[1a]
Spells
A
C
D
E
G
H
I
R
S
T
Z
Source
Community content is available under
CC-BY-SA
unless otherwise noted.