Not to be confused with Hags.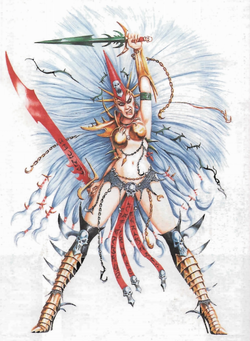 The Death Hags are the priestesses of the Witch Elves, the guardians of Khaine's mysteries. It is they who mix the noxious potions that drive the Witch Elves into their battle-rage and they who craft the poisons with which they taint their blades. They know also how to wield the secret names of their god as obscene weapons that can befuddle their foes or strike them down with madness.
Gallery
Source
Community content is available under
CC-BY-SA
unless otherwise noted.