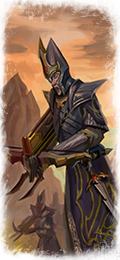 The Darkshards are the crossbow-armed wing of the Dark Elven Warrior class.
Overview
Many Dark Elves forsake melee weapons in favour of delivering death from afar. Armed with repeater crossbows — magazine-fed weapons capable of unleashing blistering hails of bolts — these Darkshards can take positions at the rear of the battlefield firing storms of iron-tipped bolts, against approaching foes, or move forwards to weaken the enemy line with a withering volley before the Dark Elf attack charges home. Though often scorned by other warriors for their distaste of close quarters battle, the Darkshards are unflinchingly proud of their marksmanship and are certainly no less cruel than their fellows. It is not uncommon for a Darkshard to forgo a killing strike to eye or heart in favour of a gut shot or other debilitating blow which, while ultimately so less lethal, guarantees that the enemy's last moments will be spent in mewling agony.[1a]
Sources
Community content is available under
CC-BY-SA
unless otherwise noted.