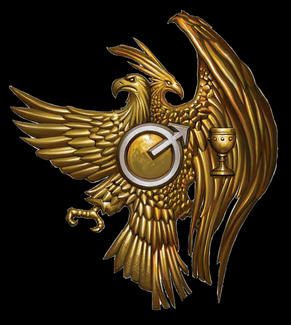 Chamon, the Lore of Metal is the Yellow Wind of Magic, and it is a manifestation of the Aethyric abstract and reality of logic, the desire to quantify, the desire and need to learn and instruct, and the wish to implement learning to practical or tangible ends.
The magic of Chamon is called alchemy, the art and science of transmutation, creation and investigation. Most of its spells have to do with change -- rusting new metal to old, turning one metal into another, or enchanting it to become more effective.[1a]
To those with Witchsight, Chamon appears to be a dense and heavy wind.[7a] It is supposedly attracted to dense materials, particularly metals.
It is said the heavier and denser the element, the greater Chamon's attraction to it, which may account partly for the reason why gold and lead are so often used in magical experiments — one as a magical conductor and the other as a magical insulator.[1a]
Chamon is also the wind of logic and experimentation, thus it also grants spells that protect and encourage such -- from aiding the student in their experimentation to drawing insanity from the cluttered mind (useful, considering one so often leads to the other).
The so-called Gold Wizards who use Chamon are affected by this logical bent, becoming rather dry and scientific in their ways, rigid and yet strong. Darker whispers indicate that those who weave Chamon can in fact cause their own transmutation, from flesh to gold.[1a]
Alchemy
Also known as alchemy and transmutancy, the magic, or spellcraft, of the Golden Order mostly involves manipulating metals, though they also have many spells to help with their studies and promote rationality.[3a] It's generally believed that the Gold Magisters can create gold from nothing; some claim to have seen them do it, but the Magister Alchemists of the Golden Order deny this.
Though complex by any normal measure, it is easier for a magister to change a man into a pig because both man and pig are living mammals made from similar elements. To do it, Magisters would only have to change the structure, not the materials themselves.
It is an entirely different matter to change the basic element, the very stuff of an object, from one thing to another for longer than a spell's duration.[1b]
So gold is made of gold, and lead is made of lead and short of permanently changing the structure of these two (something beyond the skills and scope of any human magister), any gold transmuted by a spell will eventually revert to its original form.
How long this apparent change lasts depends on the skill of the magister and the strength of the spell, meaning it could last a day or a couple of weeks.
Obviously this can have some rather severe repercussions. A living creature that is transformed into gold for longer than a few minutes will be dead when it finally reverts to its original shape and substance.[1b]
Temporary transmutation spells are at the heart of the Golden Order's spellcraft. Their battle magic revolves around causing enemy weapons to rust, turning their steel armour into unwieldy lead, or even changing their metal swords and maces into useless objects.
Such spells need not be permanent, as long as they serve their purpose on the battlefield. However temporary they may be, practising and refining these spells are the foundation of the Golden Order's magic.[1b]
List of Known Spells
A
B
C
E
F
G
I
J
L
M
P
Q
R
S
T
V
Source