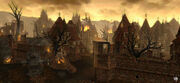 The Age of Reckoning takes place in the aftermath of a great plague when the Empire, Dwarfs, and High Elves join forces to battles Chaos, Dark Elves and the Greenskins.[1]
History
Alexis Lazlo a descendant of Pieter Lazlo, brought like his ancestor a message to Lothern to the Phoenix King Finubar with a request identical to the one of her ancestor, joining emperor Karl Franz in the impending war.[1]
Material
The Warhammer: Age of Reckoning series is a collection of novels and short stories produced by both the Black Library and Mythic Entertainment for Warhammer: Age of Reckoning a massively multiplayer online game.
Novels
The Black Library released three novels based on the Warhammer: Age of Reckoning Setting. Each was written by a previously commissioned Black Library author.
Empire in Chaos

by

Anthony Reynolds

Dark Storm Gathering

by

Chris Wraight

Forged by Chaos

by

C. L. Werner
Short Stories
Mythic Entertainment also released a number of short stories available on their website.
Comic Book
Mythic Entertainment also produced Prelude to WAR, a

comic book

, in conjunction with Games Workshop and written by

Graham McNeill

. Prelude to WAR was available in hardcover in the Warhammer Age of Reckoning Collector's Edition and was released as a free softcover on Free Comic Book Day in 2009.
Trivia
Sources
1: The Shining Guard, Comic by Graham McNeill